Following the trend of blind speculation that has made up the previous two posts on this site, I will attempt to see into the future and tell you what the opening day pitching staff will look like. I will use advanced mathematical models to predict who will be in the rotation, then throw all of that out and guess wildly. Of course, the five I have listed are pretty much the consensus choices, so it's not really all that baseless.
Starting Rotation:
1.
RHP Shaun Marcum
Marcum gets the opening day nod from me purely due to being the most experienced starter on the Blue Jays' roster. Marcum's breakout season came back in 2007 when, after bouncing between the rotation and the bullpen, he made a statement in his first start of the year by pitching six no-hit innings before being pulled from the game due to pitch count concerns. Along with McGowan, Halladay, Burnett, and Litsch, the 2007 Jays' starting staff became one of the best in the majors, but Shaun Marcum is the only one of the aforementioned players I expect to make the opening day rotation.
2.
LHP Ricky Romero
Jays fans were concerned for years about the performance of Romero in the minors. Drafted sixth overall in 2005 as the top pitcher taken, fans were concerned when Romero struggled in AA with injuries and his control. He entered 2009 with the knowledge that he would have to break out that year if he hoped to have a solid major league career. As he was wont to do that year, Ricky stepped up (with the help of former Jays' pitching coach Brad Arnsberg). There are still concerns about his high walk rate, but Ricky strikes out enough batters and keeps the ball on the ground well enough to warrant a spot in the rotation.
3.
RHP Brandon Morrow
While we are on the topic of high walk rates, here comes Brandon Morrow. Recently acquired from the Mariners for Brandon League and prospect Johermyn Chavez, Morrow has been compared to former Jay AJ Burnett in pitch types and potential. His strikeout rate is certainly there, but Morrow needs to harness more control, especially since he doesn't get many groundballs. The Jays hope that with the knowledge that he will have a starting job the entire year, Morrow will be less concerned with keeping his job and more focusing on what needs to be done, since many point to the Mariners' oscillating him between the bullpen and the rotation as the source of his troubles. Blue Jays fans will recall Dustin McGowan being in the same boat, then finally breaking out in 2007 when he was given the full-time job. Indeed Morrow and McGowan's stories have much in common, including the struggles with diabetes.
4.
LHP Marc Rzepczynski
Rzepczynski (pronounced like 'Zep-Chin-Ski') was a relative unknown in the Jays' minor league system, with less being heard of him than prospects like Brett Cecil and Brad Mills. Perhaps he did not get much publicity but his numbers were out of this world. Since he was drafted in 2007, all Rzepczynski did was strike batters out, get ground balls, and not give up home runs. Sounds like a recipe for success to me. Like pretty much every pitcher I talk about here, Rzepczynski needs to keep the walks down. After a strong 2009, I feel optimistic that Zep can build upon that minor league success.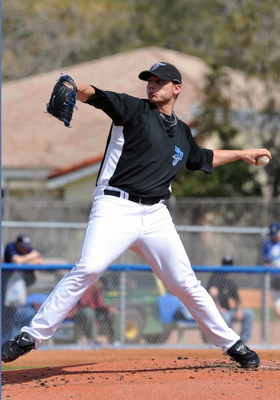 5.
LHP Brett Cecil
Like fellow 2007 draftee Rzepczynski, Cecil rocketed through the minor league system, also with good strikeout numbers, getting ground balls, and preventing home runs. Cecil also had good walk numbers in the low minors, which gradually increased as he went up through the system. Cecil actually has very similar minor league numbers to Tampa Bay's David Price, who has a greater pedigree and is more highly regarded. Cecil's 2009 was one of ups and downs at the major league level, with him flashing his dominance in one start and bombing in the next. Cecil needs to go deeper into ball games if he wants to have success; he is now over two years removed from his days as a closer in college. He has the ability to become a good number two-type starter at the major league level, which, if he can put it together this year, would fill out a remarkably good starting rotation.
Tomorrow - The Bullpen